Press release
9th August, 2018
Analysis of Sources of Funding of Regional Parties of India, FY 2016-17
Political Parties play a key role in democracies as they contest elections, form governments, formulate policies and are responsible for providing governance and improve the lives of the common man. Political parties need access to money in order to reach out to the electorate, explain their goals/policies and receive inputs from people. But where do they collect their funds from?
An analysis of their Income Tax returns and donations statements filed with the Election Commission of India (ECI) shows that the sources remain largely unknown. At present, political parties are not required to reveal the name of individuals or organizations giving less than Rs. 20,000. As a result, about 25% of the funds cannot be traced and are from 'unknown' sources. While the National Political Parties were brought under the RTI Act by the CIC ruling in June 2013, they have still not complied with the decision. Full transparency is, unfortunately, not possible under the current laws, and it is only the RTI that can keep citizens informed.
Income of Political Parties from Known, Other known and unknown sources
For this report,

known sources

have been defined as donations

above and below 20,000, whose donor details are available

through contributions report as submitted by regional parties to the ECI.
The

unknown sources

are income declared in the IT returns but

without giving source of income for donations below Rs. 20,000

. Such unknown sources include 'sale of coupons', 'relief fund', 'miscellaneous income', 'voluntary contributions', 'contribution from meetings/ morchas' etc. The details of donors of such voluntary contributions are not available in the public domain.

Other known sources

of income include sale of moveable & immoveable assets, old newspapers, membership fees, delegate fee, bank interest, sale of publications and levy whose details would be available in the books of accounts maintained by political parties.
For this analysis, 37 Regional recognised parties were initially considered, but out of them only 29 have filed both their Income Tax Return and Contributions report (Refer: Annexure 1), rest 8 had not submitted either one of the reports (Refer: Annexure 2).
Total income of 29 Regional political parties in FY 2016-17: Rs 347.74 cr.
Total income of political parties from known donors (details of donors as available from contribution report submitted by parties to Election Commission): Rs 91.29 cr, which is 26.25% of the total income of the parties.
Total income of political parties from other known sources (e.g., sale of assets, membership fees, bank interest, sale of publications, party levy etc.): Rs 179.37 cr, or 51.58% of total income.
Total income of political parties from unknown sources (income specified in the IT Returns whose sources are unknown): Rs 77.08 cr, which is 22.17% of the total income of the parties.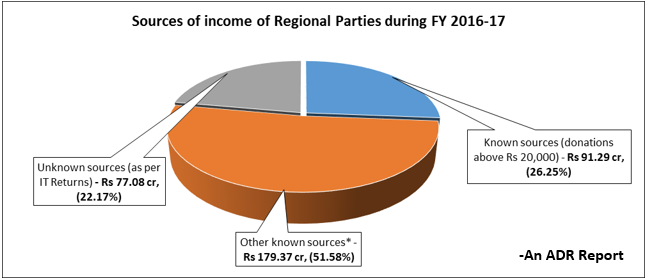 Income from unknown sources
Out of total income of Rs 77.08 cr of Regional Parties from unknown sources, 98.61% or Rs 76.005 cr came from Voluntary contributions.
Through collection from sale of coupons, Regional Parties collected Rs 65.60 lakhs and from miscellaneous income they collected Rs 41.80 lakhs.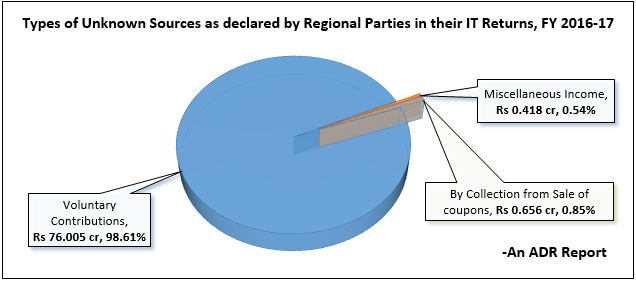 Sector-wise classification of known donations to Regional parties
For the analysis of sector-wise classification of donations, the contributions reports of all 31 Regional Parties have been considered, which have filed their contributions report to the ECI for FY 2016-17.
ADR has done a sector wise analysis and created four categories of donations: a) donations from Corporates/Business houses; b) donations from individual donors; c) donations from union/party units and d), unsegregated donations (donations with incomplete details) (Refer: Annexure 3).
60.42% of all known donations amounting to Rs 55.21 cr were received via 411 donations to Regional Parties from corporate/business houses in FY 2016-17. 38.74% amounting to Rs 35.4 cr were received via 5911 donations from Individual donors during the same time.
Shiv Sena, SAD, SP, MNS, RLD and KC-M have declared receiving more than 83% of their donations from corporate/business houses.
16 regional parties have declared that they have received more than 84% of their donations from individuals.
Shiv Sena, AAP and JDS are the only three regional parties that have reported receiving donations from Union/Party units.
There were 6 unsegregated donations from which DMK, MGP & AAP collected a total of Rs 8 lakhs in FY 16-17.
Union/Party units gave Rs 0.68 cr via 9 donations during FY 2016-17.

Recommendations of ADR
Since a very large percentage of the income of political parties cannot be traced to the original donor, full details of all donors should be made available for public scrutiny under the RTI. Some countries where this is done include Bhutan, Nepal, Germany, France, Italy, Brazil, Bulgaria, the US and Japan. In none of these countries is it possible for almost 25% of the source of funds to be unknown, but at present it is so in India.
Any organization that receives foreign funding should not be allowed to support or campaign for any candidate or political party.
Recently, the ECI has recommended that tax exemption be awarded only to those political parties which contest and win seats in Lok Sabha/ Assembly elections. The Commission has also recommended that details of all donors who donate above Rs 2,000 be declared in public domain. ADR supports ECI for its strong stand to enforce reforms in funding of political parties and hopes that these reforms are proactively taken up by the Government for implementation.
Scrutiny of financial documents submitted by the political parties should be conducted annually by a body approved by CAG and ECI so as to enhance transparency and accountability of political parties with respect to their funding.
The National and regional political parties must provide all information under the Right to Information Act. This will only strengthen political parties, elections and democracy.
Contact Details
 

Media and Journalist Helpline

+91 80103 94248

Email: [email protected]

 

Maj. Gen Anil Verma (Retd.)

Head – ADR & NEW

+91 11 4165 4200

+91 88264 79910

 

Prof Jagdeep Chhokar

IIM Ahmedabad (Retd.)

Founder Member– ADR & NEW

+91 99996 20944

 

 

Prof Trilochan Sastry

IIM Bangalore

Founder Member– ADR & NEW +91 94483 53285
 For Full Report: CLICK HERE