Can you imagine your income rising by not 100%, 200% but as much as 44,235% over a period of five years? You certainly can if you are a politician. In a DNA exclusive, information collected through RTIs and affidavits filed by candidates before the Election Commission, found that a number of politicians had reported a percentage increase in assets that went up sometimes by more than 40,000% over the past five years.
The meteoric rise in the assets is reflected in politicians' affidavits all across the country. Take the case of Vishnunath. An MLA from the Congress party he contested in the Karnataka state polls from the seat of Chengannur in 2008 declaring just Rs 5,632 in assets then. This amount rose to Rs 2,502,000 in 2013 a rise of 44,325%.
Vishnunath is far from alone. At the other end of the country, Karya Bagang, who was elected unopposed to the Arunachal Pradesh Assembly from Chayangtajo seat in 2014 increased her wealth by over 35,736% in five years. In 2009, she had disclosed assets worth Rs 404,663 which rose to Rs 145,013,407 in 2014. And in Jammu and Kashmir, an MLA from the ruling Peoples Democratic Party (PDP) Mohammad Khalil Bandh reported an increase of 9,564% of his assets between 2009 and 2014.
These are not the only examples. A brief look at the declarations and one finds that assets of politicians, across the political spectrum have increased drastically over the past five years.
In the Lok Sabha, the documents found that four current Lok Sabha MPs' assets have increased by over 1200% from 2009-14 while 22 other Lok Sabha MPs including Congress chief Sonia Gandhi, Samajwadi Party supremo Mulayam Singh Yadav and sitting Minister of State for Finance Arjun Ram Meghwal have declared an asset increase of over 500%.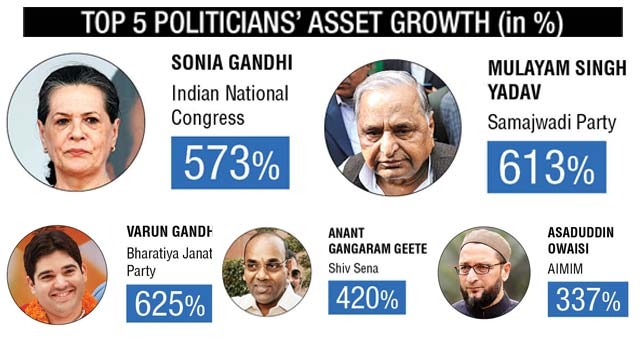 However, among Lok Sabha MPs, two names that really stand out as far as assets are concerned are Kamlesh Paswan and ET Mohammed Basheer. Paswan who belongs to the BJP has increased his wealth by 5,649%, while Bashweer a Kerala MP from the Indian Union Muslim League (IUML) has increased his assets by 2,081% between the two elections.
For the Rajya Sabha, the top 10 newly elected MPs (in June 2016) have declared the highest percentage growth in assets. Their average return is 591 per cent as compared to the last election in 2011. But there are those who have an even higher percentage growth in assets. Take the case of Union Environment and Forest Minister Anil Madhav Dave, a Rajya Sabha member from Madhya Pradesh, who has declared an asset growth of over 2,100%.
Dave though is not alone. At least two MPs have matched his performance, increasing assets by 2,000% in five years between the two elections. Seven other newly-elected Rajya Sabha MPs have declared an asset increase of over 200%.
The astronomical rise in assets is what differentiates politicians' income from incomes in other sectors. Currently, pay and perks of MPs, MLAs and other political executives, including that of the Prime Minister, show that incomes before assets are much below the pay packets of the typical corporate executive.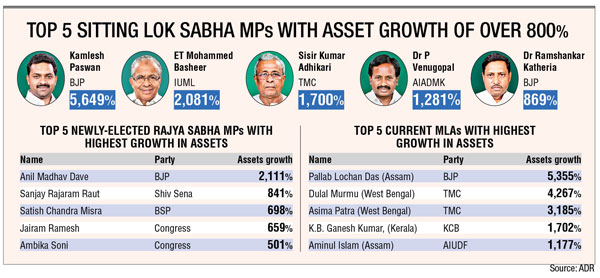 Here is a rough break up. Currently, an MP is entitled to take home Rs 140,000, which includes his monthly salary, constituency and office allowance. This together with all the allowances and perks brings the annual income of an MP to roughly Rs 35 lakh. Even the top political executive the Prime Minister takes home Rs 135,000 only.
Politicians have been fighting for a raise for some time. Last November, a parliamentary committee had recommended a hike in the salary of MPs from Rs 50,000 to a lakh a month and a constituency allowance from Rs 45,000 to 90,000. The committee, headed by the BJP's Yogi Adityanath also suggested a 75 per cent rise in pensions, and an automatic revision in salaries periodically. MPs' salaries were last hiked six years ago.
If one goes by this rough calculation above then the amount declared by candidates should be much less. But the large number of assets declared by candidates has pushed up their income. Some organisations allege that this is because of corruption.
Jagdeep Chhokar, a founding member of Association of Democratic Reforms (ADR), which has suggested changes to election laws to curb the money power, says, "Politics is a fairly remunerative profession. There is a fair amount of corruption in politics across the world, and India is no exception," he said. In July 2016, the SC had issued a notice to the government and the EC that candidates in the election fray should disclose sources of their income and if they had any stakes in entities having business transactions with the government.
The SC's directive came after admitting a writ petition filed by the Lok Prahari and the ADR. These organisations had told the court that candidates while filing their nomination papers were disclosing their assets as also assets of their relatives but not the sources of income.