The ADR analysed the affidavits of assets and criminal cases of 55 ministers, barring Balwant Singh Ramuwalia whose affidavit was not available to the organisation at the time of the exercise.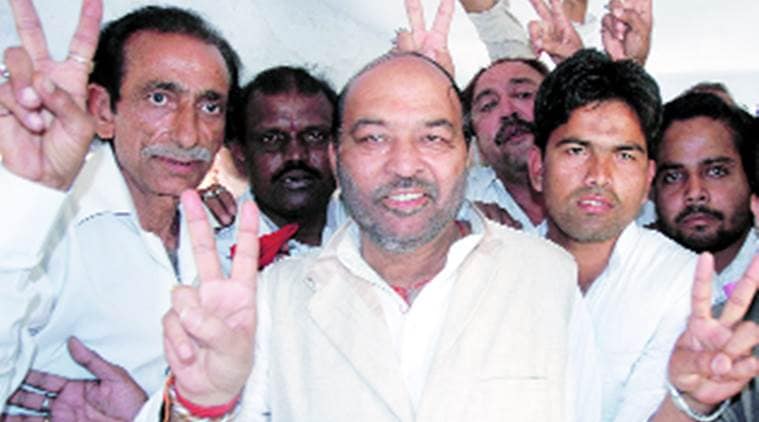 Family Welfare Minister Ravidas Mehrotra has the most pending cases – 17
As many as 28 ministers out of 56 in the state government (or 50 percent) purportedly have criminal cases pending against them, with 11 of them facing charges of serious offences like murder, attempt to murder and kidnapping, according to a report by the Association for Democratic Reforms(ADR), an NGO working for electoral reforms.
As many as eight ministers have declared cases of murder or attempt to murder against them, as per the report released by ADR head Anil Verma and UP Election Watch's Sanjay Singh at a press conference in Lucknow on Tuesday. The ADR analysed the affidavits of assets and criminal cases of 55 ministers, barring Balwant Singh Ramuwalia whose affidavit was not available to the organisation at the time of the exercise.
Among the ministers with maximum criminal cases pending against them are Family Welfare Minister Ravidas Mehrotra, who has 17 cases, most of them related to protests and demonstrations but one for attempt to murder. Textile Minister Mehboob Ali declared 12 cases pending against him, with the charges including attempt to murder, dacoity, robbery. Stamp and Registration Minister Raghuraj Pratap Singh, alias Raja Bhaiya, has eight cases including charges of attempt to murder and dacoity.
As per the report, other ministers facing criminal cases are Shailendra Yadav "Lalaee", Manoj Pandey, Tej Narain Pandey, Arvind Singh Gope, Vinod Kumar alias Pandit Singh, Ram Karan Arya, Jagdish Sonkar, Ram Sakal Gurjar, Azam Khan, Shankhlal, Kailash Chaurasiya, Radheshyam Singh, Brahma Shankar Tripathi, Durga Prasad Yadav, Surendra Patel, Ram Murti Singh, Riaz Ahmed, Iqbal Mehmood, Gayatri Prajapati, Narendra Singh Verma, Sahab Singh, Manpal Singh, Yasar Shah, SP Yadav, and Moolchand Chauhan.
Out of 55 ministers, as many as 40 are crorepatis, with their assets totaling more than Rs 1 crore. According to the report, the three richest ministers are Religious Affairs Minister Vijay Kumar Mishra (Rs 9.51 crore), Chief Minister Akhilesh Yadav (Rs 8.84 crore), and Minister for Micro, Small and Medium Enterprises Nitin Agarwal (Rs 7.85 crore).
Three least affluent ministers according to the report are Minister of State for Forest Tej Narain Pandey, alias Pawan Pandey (Rs 66,612), MoS for secondary education Vijay Bahadur Pal (Rs 18.37 lakh) and MoS for Social Welfare Banshidhar Baudh (Rs 23.22 lakh).
The report also highlights the dismal representation of women in the Cabinet, with only one woman minister in government. The report says as many as 45 ministers, or 82 per cent, are graduates or have higher education qualifications while 10 ministers, or 18 per cent of all, have education up to class XII or below.
Despite Akhilesh being projected as a young chief minister, he leads a council of ministers which has more than half its members beyond the age of 50. According to the ADR report, as many as 22 ministers are between the age of 25 to 50, while as many as 29 are in the age group of 51 to 70 years. The age of four ministers is between 71 to 90, the report states.
Sanjay Singh said the ADR has also done a survey in 60 constituencies about the probable candidates for the coming Assembly elections, and it found that most of them are real-estate developers, contractors, miners and owners of educational institutions. He said among the 2,200 candidates they analysed, as many as 21 per cent are contractors. While 18 per cent are builders, 17 per cent run education institutes, 13 per cent are involved in mining and 15 per cent have chit fund firms.
Singh said they had identified possible candidates on the basis of hoardings and banners erected by them in their constituencies, and information about their occupations was given by the residents of the constituencies. Anil Verma said the type of people who enter Assemblies and the Parliament has been a cause of concern. He said their analysis shows more people with stronger money-power are trying to enter politics.