https://pragativadi.com/karnataka-mlas-have-highest-assets-in-country-adr-report/
The Association for Democratic Reforms (ADR) recently conducted a comprehensive analysis of the assets of MLAs from various political parties in India. The report sheds light on the average wealth of MLAs, the percentage of billionaire MLAs, and the representation of women in state assemblies. Karnataka emerges as the state with the highest average assets per MLA and the highest number of billionaire MLAs, while Uttar Pradesh lags behind in both categories.
According to the ADR report, the average assets of an MLA in India stand at Rs 13.63 crore. This figure represents the collective wealth of MLAs across the country, indicating a significant financial standing.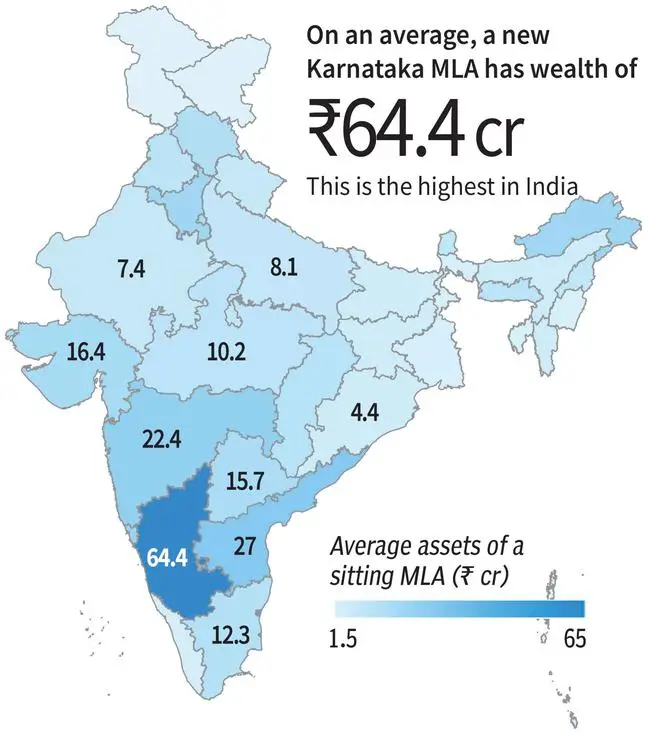 Among the analyzed states, Karnataka tops the list with 223 MLAs having an average wealth of Rs 64.39 crores. This substantial average asset value sets Karnataka apart from other states.
Tripura and West Bengal have the lowest average assets per MLA. Tripura's 59 MLAs possess an average wealth of Rs 1.54 crores, while West Bengal's 293 MLAs have an average of Rs 2.80 crores.
The ADR report highlights that 88 (2 percent) out of 4,001 MLAs from various state assemblies are billionaires. Karnataka leads in this category as well, with 32 (14 percent) out of its 223 MLAs being billionaires. Uttar Pradesh, on the other hand, has only 1 (0.25 percent) billionaire MLA out of 403 analyzed.
The report delves into the wealth distribution among political parties. Out of the 719 MLAs analyzed from the Congress party, 33 (5 percent) are billionaires, while 132 out of 134 winners are crorepatis (with assets over one crore) with an average declared wealth of Rs 67.13 crore. Similarly, out of the 1,356 MLAs affiliated with the BJP, 24 (2 percent) are billionaires, and 63 out of 66 winners are crorepatis, with an average wealth of Rs 44.36 crore.