Individuals standing for elections are always finding ways to raise money for running their election campaigns. In India, this money is often used to bribe voters to win elections. Voters are paid in alcohol or bribed in kind by giving blankets, stoves, free talk time. After all this, when an individual wins elections, then one hears that since this politician spent so much money to come to power, he will try to get it all back through corrupt practices. Thus, in the next five years, the politician pillages the system denuding the democracy of every bit of money till he/she reaches the next election cycle. In all this, democracy suffers. But the challenge is beyond what meets the eye.
System of funding
If one looks deeper into the system, one realizes that the way funding of political parties is taking place, it helps them not to declare the source of funding. A recent report by the National Institute of Public Finance and Policy (NIPFP) funded by the Ministry of Finance, 'Study of Unaccounted Income of India', grimly stated the scale of the problem. The report said, "Cash donations or coupon sales below Rs 20,000 is an open avenue for political parties to introduce any amount into their books of accounts, and also avail exemption from tax with no questions asked. This is an avenue open to serious misuse and the introduction of black money."
A political party while filing its income tax returns need not reveal the source of income for donations below Rs 20,000. Such unknown sources include 'sale of coupons', 'Aajiwan Sahayog Nidhi', 'relief fund', 'miscellaneous income', 'voluntary contributions' and 'contribution from meetings/morchas'. The details of donors of such voluntary contributions are not available in the public domain.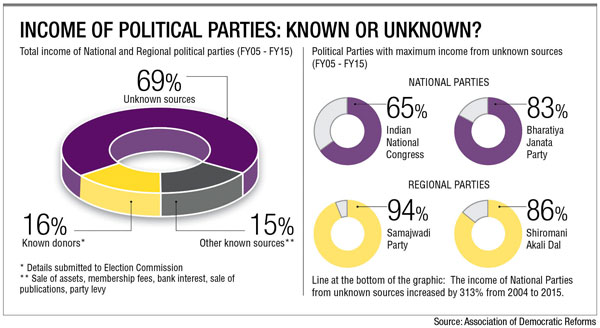 According to a report by Association of Democratic Reforms, the Analysis of Sources of Funding of National and Regional Parties- FY 2004-05 to 2014-15, the income of national parties from unknown sources increased by 313 per cent, from Rs 274.13 crore during FY 2004-05 to Rs.1130.92 crore during FY 2014-15. The income of regional parties from unknown sources increased by 652 per cent from Rs 37.393 crore during FY 2004-05 to Rs 281.01 crore during FY 2014-15.
It is clear that major political parties are heavily relying on black money through unaccounted political donations. The opaqueness in political funding has the potential to weaken the tenets of democracy. In fact, it has already caused enough damage by undermining the trust of citizens of the country in their politicians and political systems.
Cashless funding of political parties, a must
One of the ways to be able to bring transparency to the entire issue would be to make political parties go cashless. It means that every penny coming into the political party and going out of the political party should have a digital signature. And after demonetisation, this becomes all the more important.
The entire nation went through a move that resulted in massive liquidity crunch in the economy impacting businesses and daily life, with the hope that this would put an end to black economy in the country. A move to becoming cashless may bring back some trust. Is it not something that Prime Minister Narendra Modi can do to show that he holds the political parties to the same level of transparency as he expects from the population that he leads? But holding other people to the same standard to which you hold yourself is no easy task.