https://www.news18.com/india/numberspeak-10-men-for-every-woman-in-parliament-assemblies-a-look-at-gender-gap-across-parties-8588425.html
This week was all about the Women's Reservation Bill as parties across the political spectrum spoke about women empowerment and the need for reserving seats for them.
While political parties have been vocal about the need for better women representation, has any outfit given 33 per cent or more seats to women while distributing tickets in at least the last Lok Sabha polls? Data shows that the only parties that have given decent representation to women were TMC (37 per cent) and BJD (33 per cent).
As per a report from the Association for Democratic Reforms (ADR) and National Election Watch, released in 2019, there were 724 women candidates in the last Lok Sabha.
Among the political parties, West Bengal's ruling All India Trinamool Congress (TMC) was the sole national party that gave 37 per cent tickets to women in the last Lok Sabha. Out of TMC's 62 candidates, 23 were women. TMC is no longer a national party after the Election Commission snatched its status.
Biju Janata Dal (BJD), the regional and ruling party of Odisha, gave 33 per cent tickets to women — seven out of 21 seats. Further, BJD has also emerged as the only party where 33 per cent of the MPs are women in Parliament. However, back in its state, the representation of women remains sad at just 14 per cent.
In terms of elected representatives, there are a few more parties that have 33 per cent or more women MPs in Parliament, including Maharashtra's Nationalist Congress Party (NCP), Uttar Pradesh's Samajwadi Party (SP) and the Jharkhand Mukti Morcha. However, the total number of women MPs from these parties is less than five.
When it comes to political parties that are sending a major chunk of MPs to Parliament, the picture is grim.
According to another report from ADR, published this month, there are 767 MPs in Parliament from the two Houses. Overall, there are 656 male MPs and 111 women (15 per cent).
More than half of this – 389 MPs – are from BJP alone. The ruling party at the Centre has given space to just 55 women, making it just 14 per cent. Had the party followed the formula of 33 per cent women, its poll promise in 2014 and 2019, it would have to send at least 128 women to the House — 73 more from the current number. The numbers suggest that for every female MP in BJP, there are six male MPs.
After BJP, it is the Congress that has 81 MPs in Parliament. Even though the Grand Old Party has been promising women reservation since 2009, it is better than the BJP with just one additional percent of women. Of its 81 MPs, 12 are women – just 15 per cent.
The next largest party in Parliament is TMC. Of the 36 MPs of the party, 11 are women – a better number of 31 per cent.
Tamil Nadu's ruling Dravida Munnetra Kazhagam (DMK) has 34 MPs but only three women (nine per cent) while Andhra Pradesh's ruling Yuvajana Sramika Rythu Congress Party (YSRCP) has 31 MPs but only four are women (13 per cent).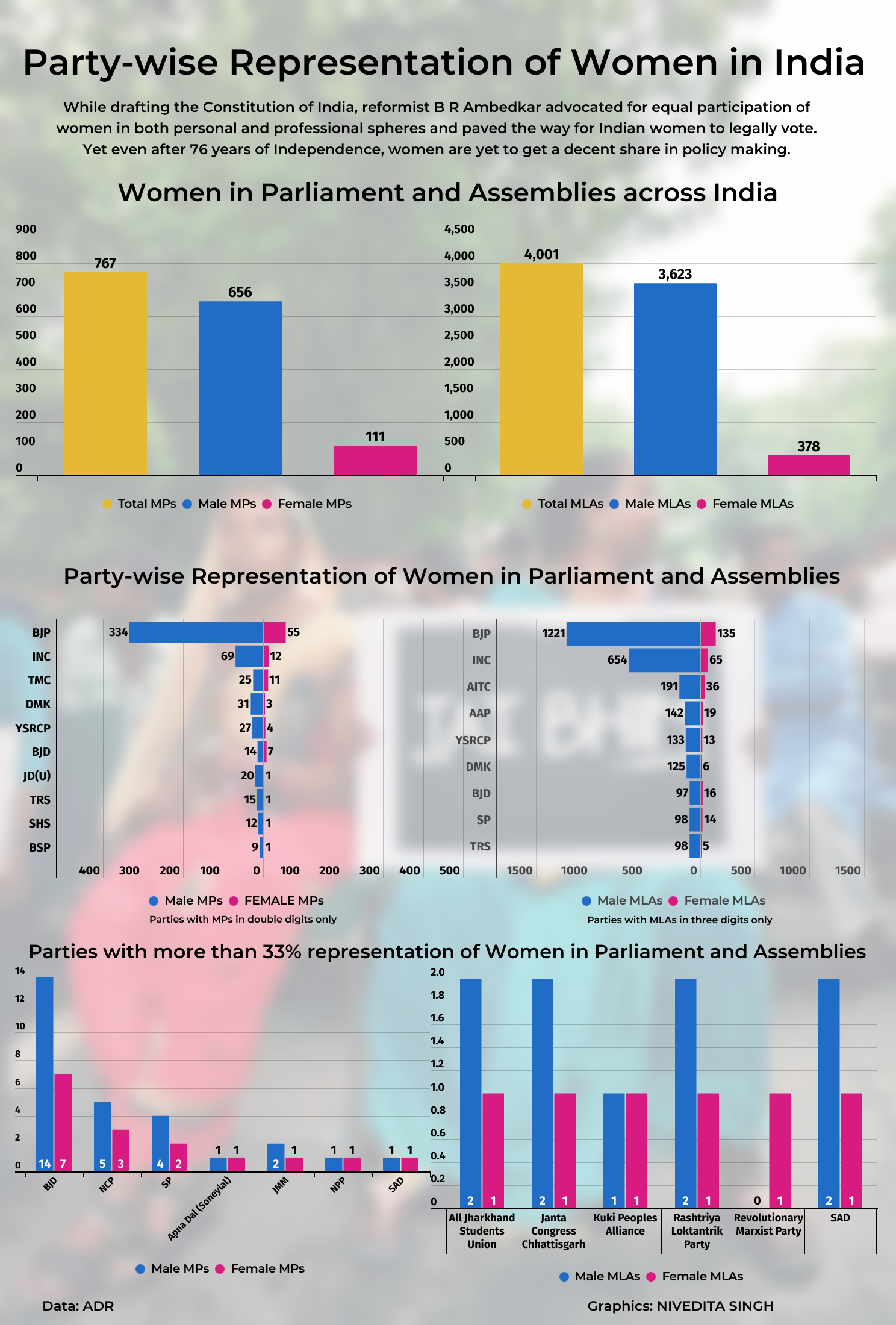 Odisha's ruling BJD and Bihar's ruling Janata Dal (United) both have 21 MPs each in Parliament. But while BJD has seven women (33 per cent), JD(U) just has one female (five per cent).
ARE ASSEMBLIES ANY BETTER?
Of the 4,001 MLAs across assemblies in India, there are just 378 women – making up nine per cent.
Two of the biggest national parties – BJP and Congress – have better representation of women in Parliament than in assemblies.
Of the 4,001 MLAs, at least 1,356 are from the BJP but only 135 (10 per cent) are women. For Congress, which has 719 MLAs, the women representation stood at nine per cent with just 65 female MLAs.
Across assemblies in India and even in Lok Sabha, currently women representation stands at just 15 per cent. While drafting the Constitution of India, reformist BR Ambedkar advocated for equal participation of women in both personal and professional spheres. However, it has remained a dream.
The Women's Reservation Bill, which was first introduced in 1996 and since then has remained a lip service, got the Lok Sabha's vote earlier this week and then received clearance from the Rajya Sabha on Thursday night.
While it is still unclear when the reservation will become a ground reality, maybe it is time that parties speaking about women empowerment give a decent representation to women in at least the upcoming Lok Sabha poll.