Only 6% ​(Rs 6 crores​)​ of ​known donations to ​Delhi parties from ​Delhi during FY 2012-13 Out of 346 donors from Delhi to INC, none declared their PAN; AAP received 19% of its donations above Rs 20,000 from Delhi
Executive Summary:
Availability of donations reports of major political parties of Delhi
 The 6 National Parties considered for the report are INC, BJP, NCP, BSP, CPI and CPM

 Regional Parties considered for the report are AAP, AIFB, DMDK, INLD, IUML, JDU, JKNPP, LJP, RLD, SAD, SHS, SP

 Of the 12 regional parties, AIFB, INLD, JDU, JKNPP and LJP have not submitted their donations report for the FY 2012-13
​Number of donors contributing above Rs. 20,000 to political parties from all over India (FY 2012-13)
The total amount of donations above Rs. 20,000 received from all over India by political parties in Delhi during FY 2012-13 is calculated from the donations report submitted to the Election Commission annually.

 The total donations above Rs 20,000 declared by National Parties was Rs. 99.14 crores, from 3777 donors.

  BSP declared that the party received no donations above Rs 20,000 during FY 2012-13.

 

The total donations above Rs 20,000 declared by 

regional parties 

was 

Rs 6.45 crores from 234 donors
SAD declared the maximum number of donors

 (62 donors) from all over India who donated 

Rs 1.81 crores 

followed by 

AAP with 59 donors contributing Rs 73.94 lakhs

 and 

RLD with 56 donors 

contributing 

Rs 1.09 crores. 

Maximum amount was declared by SP where 

only 12 donors donated Rs 2.24 crores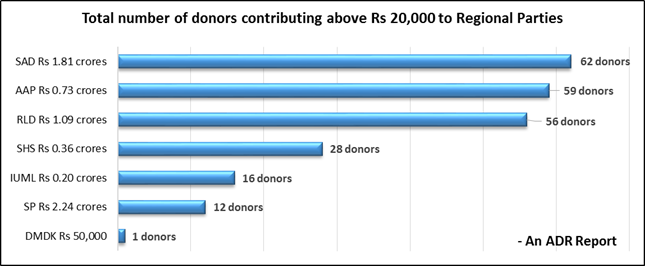 Donations received from Delhi
Parties received a sum of 

Rs 6 crores

 

from donors in Delhi

. While INC received Rs 

2.16 crores

 from 346 donors, CPM received 

Rs 2.08 crores 

from 39 donors based in Delhi.

NCP, SHS, IUML and DMDK received no donations from Delhi.


Mode of payment of donations by donors from Delhi
Payment by cheque was the most preferred mode of payment by donors from Delhi who contributed Rs 4.24 crores or 71% of total contribution by cheque followed by payment via electronic transfer (Rs 1.61 crores or 27%) and by cash (Rs 15.03 lakhs or 2%).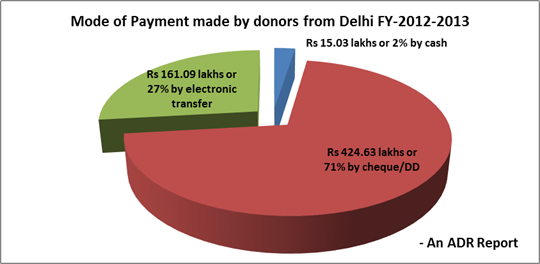 Donors from Delhi who have not declared details of PAN:
A total of 355

 out of 456 donors (or 78%) 

from Delhi 

contributing Rs 2.21 crores

 to the political parties

have not declared their PAN details 

in the contribution form.

None of the 346 donors 

from Delhi, who donated a total of 

Rs 2.16 crores to INC 

revealed their PAN details. 

None of the members of INC 

who have donated to the party have declared their PAN details. This includes 

former Prime Minister, President of INC, and Ministers. 

Prominent members are Dr Abhishek Manu Singhvi, Sachin Pilot, Ms Meenakshi Natarajan, A.K.Antony, Jyotiraditya Scindia among others.

CPI has 3 donors donating Rs 4.21 lakhs without PAN details and AAP with 6 donors who contributed Rs 1.62 lakhs without providing their PAN details.

Recommendations of ADR
The Supreme Court gave a judgment on September 13, 2013 declaring that no part of a candidate's affidavit should be left blank. Similarly, 

no part of the Form 24A submitted by political parties providing details of donations above Rs 20,000 should be blank

.

Details of donors who make 

donations to the Electoral Trusts should be available in the public domain

 for increasing transparency in funding of political parties.

Any party which does not submit its donation statement to the ECI on or before 31

st

 Oct 

should be heavily penalized

and its income should not be tax-exempted. Strict action must also be taken against parties which do not file their IT returns.

The National and regional political parties must provide all information of their finances under the Right to Information Act.

 This will strengthen political parties, elections and democracy.
For details of sector-wise donations, most preferred mode of payment of Delhi donors and the complete list of all donors from Delhi to major political parties, please click to the detailed report.