The Election Commission often claimed that strict enforcement was the highlight of the Karnataka assembly polls in May 2018 and cited the confiscation of Rs 62.6 crore in cash, up from Rs 14.42 crore seized during the 2013 legislative polls. EC officials were lauded for their efficiency in the run-up to the elections, and analysts surmised the cash seized could be the tip of the iceberg.
However, a reality check six months later shows 56% of cash seized was returned to those from whom it was confiscated for suspected electoral malpractice. The EC records show the authorities, including flying squads, static surveillance teams and police, had cumulatively seized Rs 62.6 crore in cash as on May 14, a day after polling was held. Of this, Rs 35.3 crore was released to claimants.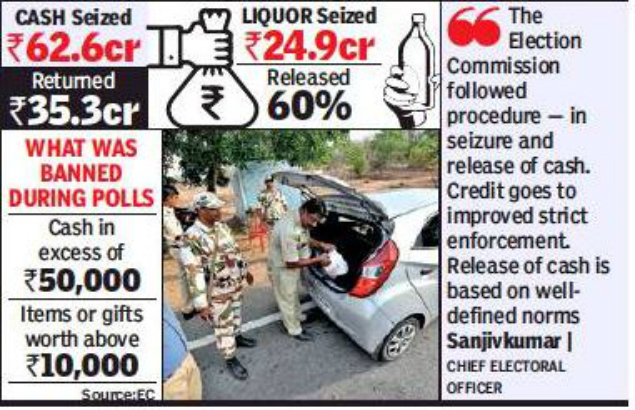 "At the outset, it reflects improved efficiency of enforcers, considering the rise in the amount of cash they seized. But then, the amount of cash returned is also high and authorities owe us an explanation," said Trilochan Sastry, founder and trustee, Association for Democratic Reforms.
The anomaly also applies to "illegal" liquor seized. The enforcement wings seized liquor worth Rs 24.9 crore, almost 10 times the Rs 2.8 crore worth of liquor seized during the previous election in the state. More than 60% of liquor seized was returned to their owners.
"Most of the stock seized was found to be legitimate, except for minor lapses such as transporting them without proper documents. While it is a compoundable offence, owners were fined for transporting it and liquor was returned," said a senior excise official from the state.
While liquor worth Rs 15 crore was released, the rest was found to be non-duty paid liquor being transported to bribe voters, said the official. "Transporting illegal liquor for poll purpose is a crime," he added. He said the stock would be destroyed after the procedure is completed. 
Assembly polls: Gold, silver items worth Rs 44 crore were seized
As per EC guidelines on model code of conduct for the assembly polls, people weren't allowed to carry over Rs 50,000 in cash and commodities or gifts worth above Rs 10,000 without valid documents while travelling.
Apart from EC authorities seizing cash, income-tax department officials had seized Rs 31.7 crore in separate cases. I-T officials said investigation and assessment of tax liability of cash seized are under way. Also, Rs 44.3 crore worth of gold and silver items were seized. While they're in the custody of the commercial tax department, officials are checking the veracity of tax paid on these articles.
"The development indicates two possibilities: The authorities were overenthusiastic while seizing money and liquor and failed to prove they were illegal; officials compromised while releasing them," said Harish Narasappa, co-founder, Daksh, which studies electoral issues.