Eleven of the country's 31 incumbent chief ministers, or one-third, declared criminal cases against themselves in their last election affidavits, according to an analysis compiled by the Association for Democratic Reforms. Eight of these CMs declared serious criminal cases, such as murder, cheating and criminal intimidation registered against them.
The Maharashtra chief minister declared the highest number of cases at 22, including three serious ones, followed by the Kerala CM at 11 cases (1 serious) and the Delhi CM at 10 (4 serious ), the ADR stated in a statement of its findings.
In terms of assets declared, N Chandrababu Naidu of Andhra Pradesh, Pema Khandu of Arunachal Pradesh and Amarinder Singh of Punjab are the top three richest chief ministers.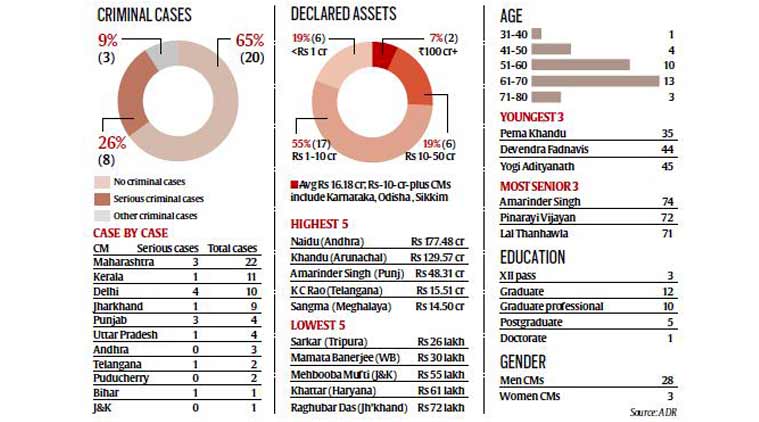 At the other end of the scale, Tripura CM Manik Sarkar, West Bengal's Mamata Banerjee and Jammu & Kashmir's Mehbooba Mufti declared the lowest assets among the 31 chief ministers.
While Naidu declared assets worth Rs 177 crore in his last election, Khandu declared Rs 129 crore and Amarinder Singh Rs 48 crore. In the ADR analysis, Sarkar's assets have been counted at Rs 26 lakh. His latest affidavit on the Election Commission website, however, declares assets worth Rs 33 crore (including his wife's properties; the Tripura CM declared only Rs 3,930 against his own name). Mamata has declared Rs 30 lakh and Mehbooba Rs 50 lakh.
ADR's analysis of the overall share of wealth among the CMs shows that two of them declared over Rs 100 crore, six declared between Rs 10 crore and Rs 50 crore and the majority — 17 CMs — declared assets between Rs 1 crore to Rs 10 crore.
The three youngest chief ministers —Pema Khandu, Devendra Fadnavis and Yogi Adityanath — are all of the BJP. These three are among only five CMs who are below 50, with Khandu the only one below 40. The three eldest CMs are Amarinder Singh, Pinarayi Vijayan and Lal Thanhawla, the only three CMs who are in their 70s. Nearly three of every four CMs — 23 out of 31 — are in the age group 51-70.
Three of the 31 CMs are women. The analysis also looked at the CMs' educational qualifications, ranging from one doctorate to three CMs who passed XII (see graphics).