http://www.dnaindia.com/mumbai/report-16-of-mumbai-thane-s-140-candidates-have-criminal-cases-against-them-1979079
As Mumbai gears up to vote next week, a comprehensive analysis of 140 candidates contesting for seven seats of Mumbai and Thane, released by NGO Association of Democratic Reforms (ADR), has found that 16% candidates have criminal charges pending against them. Not just that, 13% have "serious charges", such as offences having punishment of more than five years or under sections with non-bailable offences, pending against them. The report has analysed six parliamentary constituencies of Mumbai and one of Thane.
Take the case of MNS's Aditya Rajan Shirodkar, contesting from Mumbai South-Central, Shirodkar has six cases pending against him, including charges of causing hurt by dangerous weapons, assault, endangering life or personal safety of others, rioting and possession of deadly weapon.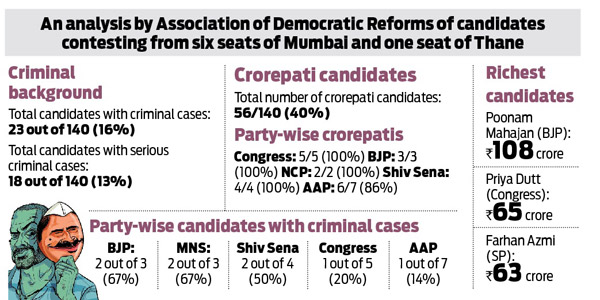 Similarly, BJP's candidate from Mumbai North Gopal Chinayya Shetty has 10 cases pending against him, including that of criminal intimidation, cheating and dishonestly inducing delivery of property and rioting. Congress's sitting MP Sanjay Nirupam has four cases pending against him, including that of criminal intimidation.
Apart from crorepati candidates, the financial details of the affidavits further reveal how 58 have declared liabilities. The top three among them are Poonam Mahajan with Rs41 crore and AAP's Satish Parasmal Jain with Rs6 crore. The analysis also found that 48 candidates (almost 34%) have not declared income tax details. Another eight candidates have declared assets more than Rs50 lakh but have not declared income tax details. Also, only 10% candidates are women.
The report has also found that 68 (almost 49%) have education qualification of Std XII pass and below. Another 61 candidates (44%) have declared education qualification of graduate and above and three have declared themselves to be illiterate.