Source:
International Business Times
http://www.ibtimes.co.in/186-indian-members-parliament-have-criminal-cases-including-murder-rape-600584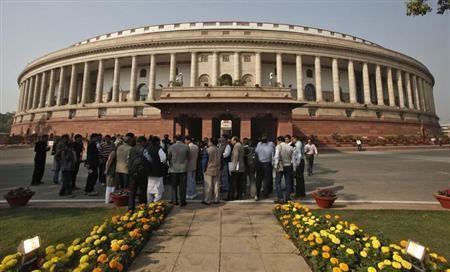 Going by the statistics, the general election of 2014 has seen the highest number of politicians with criminal records being elected to the Indian parliament. As per records, every third newly elected MP in the Indian parliament has a criminal record.
An analysis of 541 of the 543 winning candidates by Association for Democratic Reforms (ADR) shows that 186 (about 34 percent) of the newly elected MPs have confessed in their election affidavits that they have criminal cases against them. In the 2009 Lok Sabha, the figure was 158 (about 30 percent) of the elected members of parliament.
Among the newly elected leaders to the Indian parliament, 112 have declared that they have serious criminal cases, including the ones related to murder, attempt to murder, communal disharmony, kidnapping and crimes against women, against them.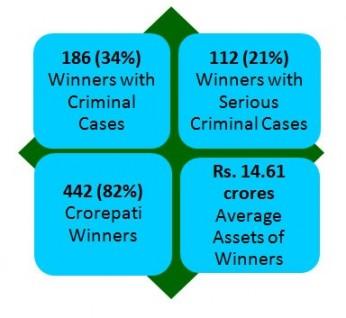 The report reveals that nine Indian leaders in the parliment have murder cases, while another 17 have attempt to murder against them. Similarly, there are two MPs who have cases related to crimes against women. 
The report notes that among the elected leaders in the Parliament, there are 16 with cases related to communal disharmony registered against them. There are 10 MPs who been charged for robbery and dacoity, and seven have cases related to kidnapping.
63 elected MPs from the winning party - Bharatiya Janata Party (BJP) - had serious criminal charges against them. The report notes that three out of 44 winners from Indian National Congress, three out of 37 winners from AIADMK, eight out of 18 winners from Shiv Sena and four out of 34 winners fielded by AITC have declared serious criminal cases against themselves in their affidavits.
Interestingly, the report also notes that the chances of winning was higher for candidates with criminal cases, compared to the candidates with a clean record.