http://timesofindia.indiatimes.com/india/Activists-slam-political-parties-for-anti-RTI-stand/articleshow/20435310.cms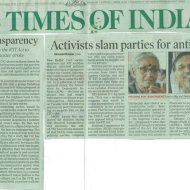 NEW DELHI: Civil society members and RTI activists sharply criticized political parties for their reluctance to accept the Central Information Commission (CIC) order bringing them under theRTI Act. In a reflection of their cautious stance, the Association for Democratic Reforms (ADR) — the main applicant who had sought information on donors to political parties — filed a caveat on Tuesday with the court to prevent any party from seeking an ex-parte stay on the CIC order.
MKSS' Aruna Roy supported the decision saying that financial transparency was necessary. She added, "We have always demanded that NGOs, trade unions, political parties, religious bodies and cooperative societies who are using public funds should be brought under the RTI Act."
Political parties opposing the decision came in for sharp criticism from ADR's Prof Jagdeep Chhokar who said, "If RTI is applicable to the government then those who form the government must also be included. Political parties are not above the law."
RTI activist S C Agrawal said, "This was a landmark judgment that would increase transparency and accountability in the political system. The CIC order will also have implications on cases like DGCA and BCCI that have opposed being brought under the RTI Act."
National Commission for Minorities (NCM) chairperson and former Chief Information Commission Wajahat Habibullah described it as a "constructive order'.' Reacting to the parties' opposition Habibullah said, "Initial reaction is bound to be negative...the Supreme Court, Army...all opposed it when they were first brought within the ambit of the Act. But when they understand the merits of the order they will accept it. There are no grounds for apprehension since a lot of the information that is sought is already available through the government."
National Campaign for People's Right to Information (NCPRI)'s Nikhil Dey said that financial transparency should be put up for public scrutiny. "The order is important as the principle of `substantially funded' interpreted by the CIC will have an impact on hospitals, schools and other public institutions that should be open to RTI as well."
Former Information Commission in the CIC Shailesh Gandhi said that unless a political party was based on illegal activities or black money there was no cause for concern. "Why are political parties opposed to transparency and RTI? In fact citizens must vote for only those parties that are transparent," he said.
Pointing to the opaqueness among political parties, ADR pointed out how basic information like memorandum of association of parties, election manifesto and monthly remuneration of the party office-bearers was not available.