http://www.dnaindia.com/mumbai/report-april-17-polls-11-of-19-seats-have-at-least-three-candidates-with-criminal-cases-1976784
April 17 polls: Sena-BJP combine has more criminal candidates than others
Eleven of 19 constituencies that will go to polls on April 17 in the state have at least three candidates with declared criminal cases, according to a report by the Association for Democratic Reforms, a non government body. ADR has arrived at the figure by analysing the affidavits submitted by the candidates to the election commission.
Three candidates, including one from NCP, face murder charges, while two contestants, with one from Shiv Sena, have attempt-to-murder charges against them.
With 11 cases and over 80 charges ranging from murder to attempt-to-murder, sitting MP Raju Shetty of Swabhimani Paksha is on the top of the list.
ADR's analysis shows that the Sena-BJP combine has more criminal candidates than any other party. The saffron alliance has 11 of 15 candidates with criminal past, whereas the Congress-NCP ruling alliance has 9 of 18 candidates with criminal track records. Five from debutant Aam Aadmi Party too have criminal records.
Unlike the Vidarbha region, candidates from the saffron alliance in these 19 constituencies are financially better than the ruling party candidates. All the BJP and Sena nominees are 'crorepatis', says ADR. Sixteen of 18 Congress-NCP faces are also crorepatis.
At Rs113 crore, NCP chief Sharad Pawar's daughter Supriya Sule is the richest candidate in the fray in the second phase.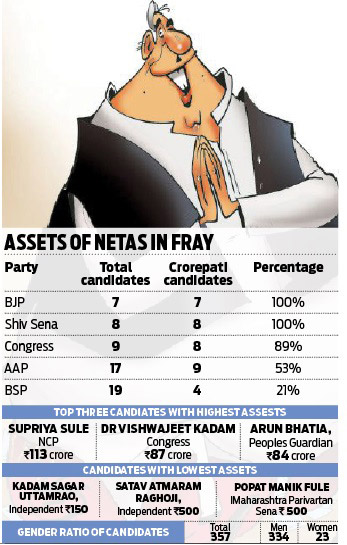 On academic front, three contestants are illiterate, 54 candidates are 10th pass, while 67 are graduates, says the report.
A total of 183 candidates out of 346 have declared liabilities out of which 19 candidates have declared liabilities above Rs 1 crores. Munde Gopinathrao Pandurang of BJP from Beed constituency has declared liabilities of Rs. 33.57 crores followed by Dr.Vishwajeet Patangrao Kadam of Congress from Pune constituency with liabilities of Rs 20.49 crores and Dhananjay Bhimrao Mahadik of NCP from Kolhapur constituency declaring total liabilities of Rs 7.13 crores
As per the ADR, the data is only based on the analysis of 346 out of 357 candidates from the 19 seats of phase II as the affidavits of the 11 candidates were not available for scrutiny. This includes two AAP and one NCP candidate besides most independent candidates.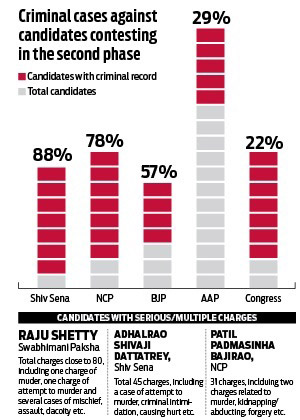 The second phase, to be held on April 17, would cover 19 constituencies falling in Marathwada and coastal Konkan regions. These are: Ahmednagar, Baramati, Beed, Hatkanangle, Hingoli, Kolhapur, Latur, Maval, Madha, Nanded, Osmanabad, Parbhani, Pune, Ratnagiri-Sindhudurg, Shirur, Shirdi, Solapur, Sangli and Satara.