http://www.thestatesman.net/news/31782-democracy--lesson-for-youths---women.html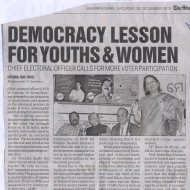 Chief electoral officer calls for more voter participation
Chief electoral officer (CEO) of Odisha, Dr Mona Sharma stressed on participation of more youths and women in the electoral process to make it more meaningful and to strengthen democracy.
"All eligible persons should register their names in the voter list through Form no. 6. In India, more women and youths need to participate in electoral process. The focus should be on interior and rural areas for creating awareness and disseminating information," she said.
Dr Sharma made the observation while launching the "My vote, my country" campaign programme here today. The programme is a joint initiative of Odisha Election Watch (OEW) and Association for Democratic Reforms (ADR).
Highlighting the objective behind the campaign, state coordinator of OEW Mr Ranjan Kumar Mohanty said that the aim is to create awareness among the voters so as to ensure higher voter participation in the electoral process.
Referring to the recent Delhi election, former DGP Mr Amiya Bhusan Tripathy said that it set an example of how elections can be won without money power and muscle power. Former chief secretary Mr Sahadeb Sahoo lauded the NOTA option while claiming that it is a good sign for democracy.
While presenting the consolidated analysis of financial and criminal background of candidates and elected representatives of India from 2004 to 2013, Mr Srinivasulu of ADR said that over one third of the MPs and MLAs have criminal cases against them, with 75 MPs facing serious criminal cases such as murder, dacoity, extortion and 45 MLAs and two MPs being charged crime against women.
Of these 45 MLAs, six MLAs have rape charges. Prof. Reeta Ray, Eminent social scientist said young generations are extremely creative and they should not mislead. She emphasized that the democratic problems can be solved by only voting. Instead of blaming the system, it is important to cast our vote, she added.