http://www.ndtv.com/article/india/on-government-s-black-money-list-people-who-donated-to-bjp-congress-612613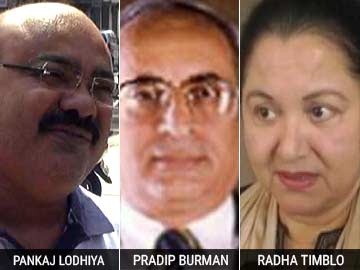 NEW DELHI:  Finance Minister Arun Jaitley told NDTV recently that a revelation of names in connection with untaxed or black money in foreign accounts would "embarrass the Congress." While none of those in a first set of names placed by the government before the Supreme Court today are politicians, there is potential embarrassment for not just the Congress, but also ruling party BJP. 
Among eight people named in an affidavit filed in the top court today are five members of a family that runs a Goa-based mining company Timblo Pvt Ltd. The Timblos have donated funds to both the Congress and the BJP, more to the latter, NGO Association for Democratic Reforms or ADR said citing public documents.
"An analysis of the donations made by individuals and corporates to the National Parties between FY 2004-05 and 2011-12 shows that Timblo Pvt Ltd, whose Managing Director is Radha Timblo, had donated nine times to BJP amounting to a total of Rs. 1.18 crores and thrice to INC, amounting to a total of Rs. 65 lakhs in seven years," ADR said in a press release, listing details of the donations.
The last of the alleged donations listed were made in 2011-12; state elections were last held in Goa in 2012.
The Timblos, along with Pradip Burman of the Dabur India group and bullion trader Pankaj Chimanlal Lodhiya of Rajkot are being prosecuted for alleged tax evasion as money was found in their foreign accounts that was unaccounted for, the government has said.
Timblo company's Radha Timblo conceded that "at different times there were some searches, raids" but said she would comment on the affidavit later.