http://www.firstpost.com/politics/parties-renege-on-promise-theres-no-escaping-criminals-in-up-192749.html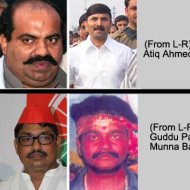 If the tall claims of all political parties in Uttar Pradesh on criminals are taken at the face value then the state should be having the cleanest of candidates in the fray. However, the claims remain just what they are, claims.
Let's check out first what the parties said about criminal candidates. "In the last election, many people with criminal antecedents came to the BSP. They not only maligned the image of the party but also spoilt the honest and innocent BSP MLAs and ministers, who later got involved in wrong doings. But this time all such people are where they should be. The BSP has fielded people with clean image. "This is Mayawati, the national president of the Bahujan Samaj Party (BSP).
"We have not inducted any corrupt or criminal in the party and will support any such person as well." This is Nitin Gadkari, national president of the BJP.
However, as the ground reality suggests, no party has kept its word. A closer look at the names announced so far by all the parties confirms that either these political outfits are unable to restrain their fondness towards criminal and corrupt candidates or such candidates have become a necessity.
Even a smaller and newer outfit like the Peace Party, which started with big promises and projected itself as a clean alternative to others, is harbouring criminals like Akhilesh Singh and Jitendra Singh Babloo.
A scrutiny of candidates announced by different parties reveals that more than 35 per cent of them are from a criminal background. Of these, at least 30 percent are facing serious criminal cases. This includes murder, kidnapping, attempt to murder, arson etc.
"It is unfortunate that while voters have been demanding clean and honest candidates, parties are resorting to candidates with criminal background. If the voters are not given alternatives and the only option before them is candidates with criminal backgrounds, obviously these candidates would win. This shows that there is a lot of difference in what parties say and do," says Anil Bairwal, the national coordinator for Association for Democratic Reforms, which in involved in extensive analysis of candidates' backgrounds.
In the last election, many hardcore criminals were rejected by the electorate, says Bairwal, adding still at least 142 could find their way to the House. Over sixty candidates are contesting this poll from the jails.
For instance, a notorious criminal of eastern Uttar Pradesh, Brijesh Singh, is a candidate of the Pragatisheel Manav Samaj Party. He is lodged in an Ahmedabad jail now. The party claims it the decision to field Singh is a 'reformatory step'.
His arch rival and don of eastern Uttar Pradesh, Mukhtar Ansari, who too is in jail, is contesting from his own political organisation, Quami Ekta Dal. The rivalry between the two has claimed more than 60 lives in over two decades. The latest was the brutal murder of BJP leader Krishnanand Rai in 2005.
Another notorious criminal in the poll fray is Munna Bajrangi, who is a candidate from the Apna Dal. Bajrangi, an accused in over a dozen murders, is in Tihar jail. Apna Dal has also fielded Atiq Ahmad who is contesting from Allahabad jail.
Even the major parties have not shied away from fielding criminals. For them the candidate was criminal until last assembly elections when he contested from another party. Here's the sample:
Congress:
Kalawati Bind (Zamania) – A former village chief, Kalawati is contesting the first assembly election of her life, from jail. She along with many others was charged with lynching a policeman, T Rama Rao, in January last year.
Babban Rajbhar (Rasra) – He is facing charges of abduction, vandalism, violence and threat to murder. He had contested the last election on a BSP ticket.
Ajay Rai (Pindra) – Rai has been charged with cases of arson, loot, inciting violence, attempt to murder and creating obstruction in official work. In the past Rai had contested under the banner of the BJP.
Fakhir Siddiqui (Lucknow Central) – Siddiqui is facing charges like arson, violence, threatening a government employee and obstructing government functioning etc. In the past he has enjoyed the hospitality of both SP and BSP.
Vijay Dubey (Khadda) – A former BJP candidate, Dubey is facing charges of attempt to murder, loot, arson and threatening a government employee in office.
Samajwadi Party:
Kaptan Singh Rajput (Charkhari) – Kaptan Singh along with his brother Brijnandan Singh operates a gang in Mahoba and Jalaun where 15 different cases are registered against them. These include charges under the Arms Act and Gangster Act. Kaptan Singh is contesting for an assembly seat for the first time.
Bhagwan Sharma (Dibai) – Sharma was arrested thrice – once for murder, once for rape and later for abducting block level officers during a local body election. Sharma was with the BSP in the last election.
Mehboob Ali (Amroha) – Ali is facing over two dozen cases and he has been booked under the Gangster Act. In 2002, he contested the election from jail from SP ticket.
Abhai Singh (Gosaiganj) – Abhai Singh is facing murder charges along with over two dozen other cases such as crime, including arson and inciting violence. In the last election he contested from the BSP.
Mitrasen Yadav (Bikapur) – Yadav had been convicted for murder but was pardoned. Recently he has again been convicted under serious corruption charges. He, too, is facing over two dozen serious cases of crime. Even his son Anandsen has been convicted for murder. Mitrasen started as a communist leader then went to the SP and in last election he joined the BSP.
BJP:
Radhey Shyam Gupta (Fatehpur) – Gupta is facing cases of looting, violence, arson besides charges of threatening to murder.
Lallu Singh (Ayodhya) – Singh, a leader who emerged after the Babri Masjid demolition, has been facing cases of dacoity, threatening government officials in their office and restricting official work and of inciting violence. Lallu has always been a BJP man.
Santram Senger (Madhavgarh) – Senger, a BJP man, is facing charges of arson, inciting violence and threatening government officers. He is also facing cases under the SC/ST Act.
Baavan Singh (Katra) – He is facing cases of attempt to murder, issuing murder threats, inciting violence and many such serious charges. Singh is a first timer.
Udaybhan Karwaria (Allahabad) – A sitting MLA, Karwaria is facing cases of murder and attempt to murder. His elder borther Kapilmani Karwari is a MP from the BSP.
BSP:
Ram Sewak Patel (Badaun) – Patel has been involved in about two dozen cases, including murder, attempt to murder, violence, arson and under Arms Act. He had contested in the last assembly election as an independent.
Indra Pratap Tiwari (Gosaiganj) – Once upon a time, Tiwari was facing more than two dozen cases of serious crimes. He contested the last elections on the SP ticket but could not win.
Manoj Tiwari (Pratapgarh) – There is a non-bailable warrant against Tiwari in a murder case. He has been declared absconding. Besides that he is facing involvement in over a dozen other criminal cases.
Haji Alim (Bulandshahr) – Alim is facing a non-bailable warrant for his involvement in a rape and molestation case. He is a sitting MLA of the BSP. He runs a circus and during Mulayam's regime his circus was raided and over 15 minor girls from Nepal were rescued.
Noor Saleem Rana (Charthawal) – Rana is involved in several criminal cases, including murder.
The state also has many others in jail who are using their clout to help their family members in the poll fray. Amarmani Tripathi, who is in Hardwar jail for the murder of a politically ambitious poetess Madhumita Shukla, is a case in point. The strict jail rules have not stopped Tripathi from recording a video on a mobile. The DVDs made out of it are being used as publicity material for his son Amanmani Tripathi, who is contesting on a Samajwadi Party ticket. In his speech, Amarmani is seen pleading to people to ensure the victory of SP so that he could be set free.
Besides, SP MLA, Vijay Mishra, who was involved in the murder of a BSP MLA Nand Gopal Nandi in 2010 in Allahabad, is also contesting from jail.
A majority of these leaders claim that the cases they are facing are politically motivated and were filed when they were out of power.