http://www.hindustantimes.com/India-news/NewDelhi/Political-parties-answerable-to-citizens-under-RTI/Article1-1070270.aspx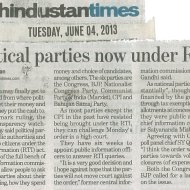 You may finally get to know how and from where political parties get their money and to what use they put the cash to.
In a landmark ruling, the country's transparency watchdog on Monday said political parties were public authorities and answerable to citizens under the Right to Information (RTI) act.
The ruling of the full bench of the central information commission (CIC) will allow people to ask six national parties about their source of funding, how they spend money and choice of candidates, among others.
The six parties are the Congress, BJP, Nationalist Congress Party, Communist Party of India (Marxist), CPI and Bahujan Samaj Party.
As most parties except the CPI in the past have resisted being brought under the RTI, they can challenge Monday's order in a high court.
They have six weeks to appoint public information officers to answer RTI queries.
"It is a very good decision and I hope against hope that the parties will not move court against the order," former central information commissioner Shailesh Gandhi said.
As national parties were "substantially", though indirectly, financed by the government through tax exemptions and land allotments at concessional rates, they were public authorities, chief information commissioner Satyananda Mishra said.
Agreeing with CIC, former poll panel chief SY Quraishi said, "I think the order will push the parties towards voluntary disclosures (of expenses)."
Both the Congress and the BJP called for a larger debate on the issue.