http://www.dnaindia.com/pune/speak-up-polls-is-it-all-about-money-1972061
A preliminary assessment of affidavits by the Association of Democratic Reforms (ADR) suggests that Congress has fielded more than 85 multi-millionaire candidates and BJP over 30 such candidates so far. Have elections really become a millionaires' sport? dna explores..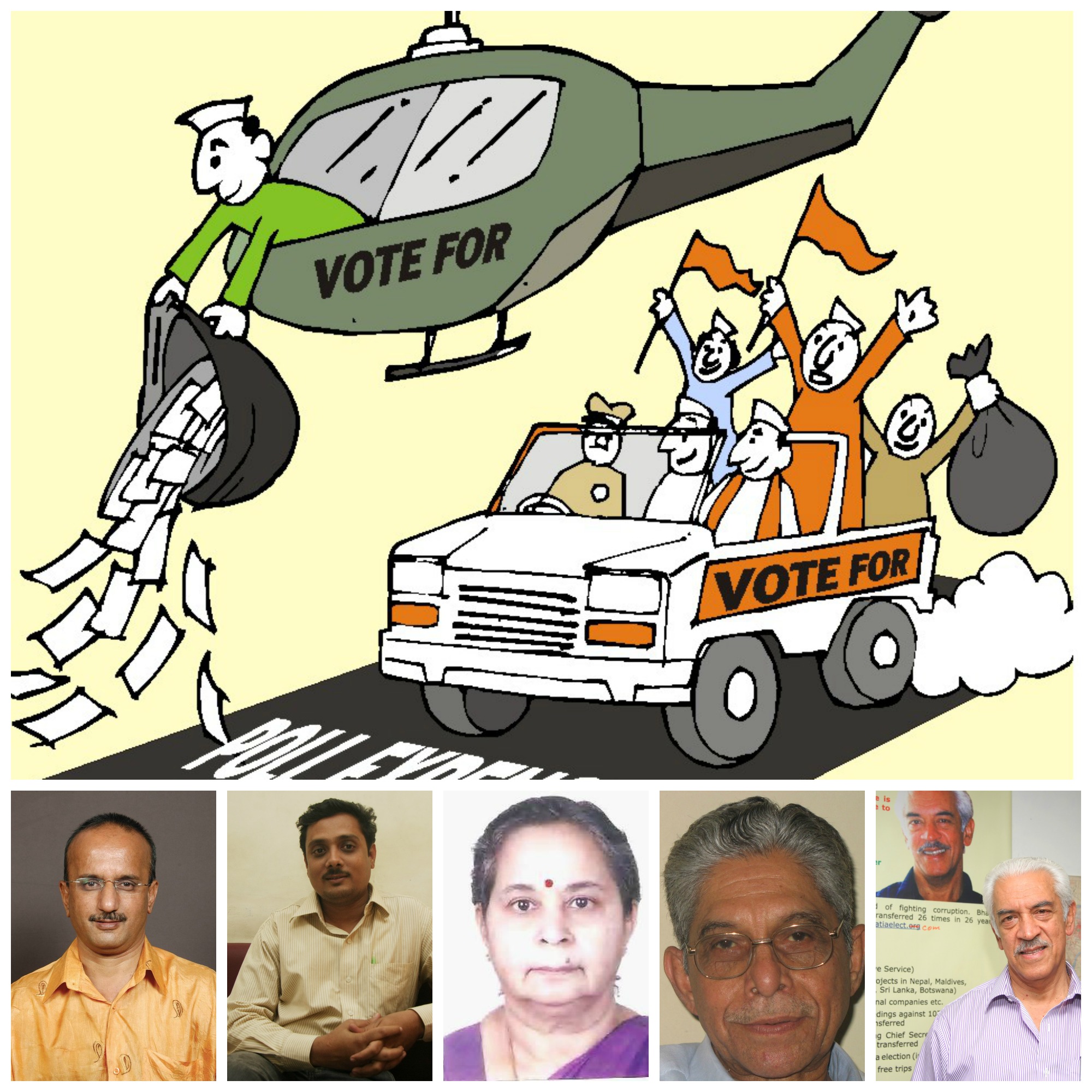 Election becoming a multi-millionaire's sport , Pune citizens speak up. 
RNA Research & Archives
We are not at all heading towards free and fair elections
Nowadays every citizen knows that money can win elections. With the upcoming Lok Sabha elections, the political party campaigns are being largely hyped on money power. For example, huge posters of Narendra Modi have been put across the city. Obviously, the party is spending money on it and not the local politicians. If I have to run for elections as an independent candidate, I have no chance if I have no power to spend huge money for campaigns. In such a situation, we are not at all leading towards free and fair elections. Polls have become a money game and they are all about money.
—Asim Sarode, advocate & activist 
Business community has been financing poll campaigns
India has adopted a multi-party system and there are many parties that contest the elections in the country. The upcoming general election will be the 16th Lok Sabha election, wherein the number of voters has increased to over 82 crore this time. It comes to around one Member of Parliament for every 16 lakh voters. With such an increase in voters, there has not been any change or increase in the number of Lok Sabha seats. Under our law and constitution, every citizen of India has the right and can participate in elections. It is very important role of the Election Commission (EC) to take cognizance of any violation. In the election campaign, a lot of money is involved. The business community has always been financing political parties and election campaigns, which is not a new practice. Now it is the role of the EC to conduct a fair election. Political parties should play fair and not violate the laws. 
—Sita Bhatia, Associate Professor, ILS Law College 
As an independent, I have no money to spend on campaign
Politics and elections in particular has become a very money-intensive field. For example, to reach out to a population of around 50 lakh in the city through leaflets, we have to spend a minimum Rs 20 lakh. Over and above I will have to spend money to put up hoardings, open offices, transportation and meet expenditures of party workers during the election campaign. It does take money to just reach out to people. Even for online presentation, which has now become a necessity, we have to spend money. As an independent candidate, if I have no money to spend on campaign, I don' t stand a chance. If we are fighting giant parties, then it becomes all the more difficult. Unless an ordinary person has a public standing and is very popular, he has to have money power to run for elections. 
—Arun Bhatia, LS candidate for Pune seat, People's Guardian Party
Politics has become a business, common man bound to suffer
It is true that politics and elections have become a millionaires' sport. Anna Hazare has truly said that politics is all about coming to power via money and then making money out of power. Politics has become a business, wherein dynastic politics and nexus with builders and corporate has become a necessity. With builders and corporates jumping in the bandwagon of politics, common people are bound to suffer. This is the reason why the political parties are against coming under the RTI. 
—Vihar Durve, RTI activist
Polls have become a rich person's domain, which is undemocratic 
Nowadays in politics and elections, people with illegal money get an advantage to come to power. It is not at all a fair practice, wherein candidates who are nor rich are not getting equal chance to compete in an election. Today, what one sees is that senior politicians are putting forth their family members, relatives or close kin in politics and keeping the monopoly to themselves. This way, the money also grows and remains with one political family. It is always seen that politicians favour rich people, because they always fund the political activities. For example, when unauthorised constructions were being demolished in the city, the local political leaders were a worried lot. They were seen out on the streets protesting against the anti-encroachment drive. Polls have become a rich person's domain, which I feel is undemocratic.