http://indianexpress.com/article/india/india-others/in-the-centres-black-money-affidavit/
Pankaj Lodhiya,  44, the Rajkot-based bullion trader whose name figured in the Centre's black money affidavit, has his office, Shreeji Trading Company, on Bhupendra Road in the city. The office was shut on Monday — Diwali festivities end only on Labh Pancham, which is on Tuesday.
Lodhiya expressed shock at his name appearing in the affidavit: "I am shocked to hear this.  I don't have any account in Swiss banks. Everything is in the (account) books. I will reply to queries by the prosecution. I was among those who congratulated Prime Minister Narendra Modi when he took up the campaign against black money, and I am sure that I will come out clean on this. If any account is found, I am ready to surrender whatever money is deposited to the Government of India."
His father, Chamanlal Lodhiya, is close to local BJP leaders. According to information made public by the Association for Democratic Reforms on Monday, the BJP's donations report for 2011-12 lists Rs 51,000 from the elder Lodhiya.
Pankaj Lodhiya, who did not complete his commerce degree, entered the bullion trading industry around 15 years ago, and is now the chief supplier of gold to Rajkot's huge jewelley industry.
Shreeji Group has interests in diamond, gold and silver jewellery, as well as realty. It has branches in Ahmedabad, Delhi, Jaipur, Raipur, Indore and Bangalore. According to the group website, the company is associated with London Bullion Market Association, an international association. Shreeji Ornaments Pvt Ltd, another group company, markets jewellery under the brand Tatva.
The I-T department had raided Lodhiya's home around a year and a half ago, but not many details about the operation were reported.
Radha Timblo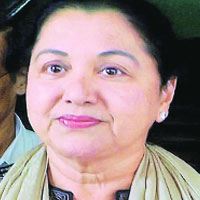 Radha Satish Timblo, named in the Centre's affidavit to the Supreme Court for allegedly stashing black money abroad, is a member of the Timblo family in Goa that operates mines and owns the 5-star Cicade de Goa resort at Vainguinim Beach.
The family's name has earlier appeared in connection with an alleged illegality involving the transfer of a mining lease that was originally granted to Badrudin Mavani, an individual.
The Supreme Court's central empowered committee looking into illegal mining in Goa alleged in its interim report that the ownership of the mining lease was illegally taken over by the Timblo family using a power of attorney. The concession had been granted to an individual, but had been operated as a partnership firm, in which Radha Timblo was a minority partner and Timblo Pvt Ltd held the majority.
According to election watchdog Association for Democratic Reforms, Timblo Pvt Ltd donated Rs 1.18 crore to the BJP, and Rs 65 lakh to the Congress over the seven-year period between 2004-05 and 2011-12.
As per details made available by ADR on Monday, Timblo Pvt Ltd made nine donations ranging from Rs 1 lakh to Rs 25 lakh to the BJP, and three — of Rs 30 lakh, Rs 25 lakh and Rs 10 lakh — to the Congress during this period. A PTI report from Panaji quoted Radha Timblo as saying she needed to study the government's affidavit before commenting on her name being included. "I have not seen the affidavit. I need to study it before commenting anything on it," she told reporters in Margao town on Monday afternoon. Pressed further, she said, "Do you have the affidavit? Can you show it to me?" Pradip Burman Pradip Burman, who belongs to the family that owns Dabur India Ltd (valued at over Rs 36,700 crore as on Monday), has two entries in the HSBC Geneva list — of $ 40,000 and $ 3,28,000 — roughly adding to Rs 14 crore, for the financial years 2005-06 and 2006-07. Investigations into Burman's accounts started in July 2011. After initially not acknowledging he had an account, Burman in 2012 offered to pay tax to "buy peace" in view of his old age, and of the goodwill that Dabur and his family had. He paid Rs 7.17 crore, including penalties. Burman opened this account in 1999, when he was in Dubai. Income-Tax documents accessed by The Indian Express show the authorities have set two parameters for initiating prosecution: non-furnishing of account details, and wilful attempt to evade tax. Considering Burman is in his 70s, the I-T department sought the opinion of its lawyers, who, however, opined that since Burman was not a senior citizen at the time of the alleged offence, his case was fit for prosecution. A mechanical engineer from MIT, Burman joined the family business in 1967 and, in 1981, became managing director of Vidogum and Chemicals. In 1995, he became a director at Dabur India and served as executive director from 2007 to 2012. He is currently founder-chairman of Sundesh, a non-profit organisation that works on educating rural women. A Dabur spokesperson said on Monday, "We wish to state that this account was opened when he (Pradip) was an NRI, and was legally allowed to open this account… We have followed all the laws and the complete details regarding the account have been voluntarily, and as per law, filed with the Income-Tax Department, and appropriate taxes paid, wherever applicable." -