http://www.ndtv.com/article/election-2014/truth-vs-hype-rahul-gandhi-and-narendra-modi-flights-of-fancy-490029
As election season intensifies, the high-flying campaigns of the major parties, and their top leaders has come under scrutiny - how much does it cost? And where is the money coming from?
 
Rahul Gandhi's helicopter lands in Uttar Pradesh this week, a routine for the past several years, but being questioned by those in the Aam Admi Party.  
 
The Congress party accepts that the private jets and choppers used by Rahul, and the other top leaders of the party are either borrowed from corporates looking to do a favour, or paid for.  But how many borrowed? And from whom? And if paid for - how much? And where is the money coming from - none of this is clear.
 
We managed to track down one of the companies used by Rahul Gandhi, Air Charter Services Private Limited, based in Connaught Place. Registered in 2000 by a relatively unknown individual, Semoun Jolly, who worked in a ground handling firm at the airport, today its website offers a range of aircrafts and helicopters.
 
When we visited their office on two occasions, bafflingly no one was present. Finally one of the directors of the company confirmed to us over the phone that Rahul Gandhi did use their services till about a year back. He said Rahul would fly on a Beechcraft plane which costs Rs. 1,25,000 per hour.
 
The same mystery surrounds the private air travel of Narendra Modi. 
 
An RTI filed by Gujarat Congress leader Arjun Modhwadia, disclosed that between 2003-07, as Gujarat Chief Minister, Mr Modi spent over Rs. 16 crores taking 100 flights, of which only 10 were on government planes.
 
Mr Modwadia says corporates like Essar, Adani, Reliance and other companies based in Pune, Mumbai and even overseas companies provided these services to Narendra Modi. He claimed that these were being offered free but when the Congress alleged cronyism, the government of Gujarat said it was paying for the flights.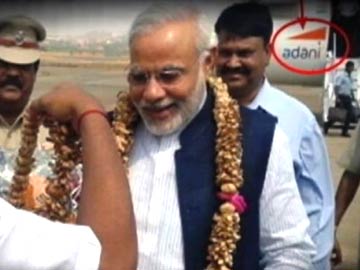 The AAP recently tweeted an undated photo of Mr Modi emerging from an plane with the logo of Gujarat-based Adani Group, indicating that Mr Modi still takes favours from the corporate, who in turn has been rewarded by land at bargain rates for one of its port projects in Gujarat.
 
Senior BJP leader Ravi Shankar Prasad rebutted the charge saying, "It's absolutely wrong. Corporate planes are used by many political parties by giving proper payments and there is nothing surprising about it."
 
The normally reclusive Gautam Adani told NDTV that he accepted Mr Modi uses his planes but denied getting special favours.
 
When grilled about the charge of land being given at cheaper rates, he says, "The land is completely marshy land and people are talking about the prices of 20 years ago after 20 years of development."
About Mr Modi using his jets, he said, "It is nothing but that we are a chartered company, they pay and use the flight."
 
As with the Congress, the BJP accepts that they are paying for Mr Modi's heavy air travel, but how much, and with which air service it is not willing to reveal.  
 
Captain Gopinath, whose Air Deccan used to run a charter flight service, gave us an estimate of costs. According to him, "To hire a helicopter, which most of the VIPs use, it is anything from Rs. 2 to 2.5 lakhs on a daily basis. And similarly for a business jet, it could be anything from Rs. 3 lakhs to 6 lakhs, depending on the type of jet."
 
Based on that and on the number of rallies addressed by Mr Gandhi and Mr Modi in the past five months, the expense on Mr Gandhi's flights would have come to about Rs. 2.5 crores and on Mr Modi's flights about Rs. 4 crores. With almost two months of intense campaigning still left, these figures are bound to shoot up. Add to this the costs of the other leaders of both parties, and the figure could be very high.
 
Both the BJP and the Congress claim that they make all these details available to the Election Commission. 
 
But in the account books of both parties there is no specific mention of how much they spend on chopper rides, in previous elections. 
 
The Congress balance sheets for 2010-11, the last available date, simply says Rs. 29 crores spent on 'travel and lodging'. The BJP for the same period says 'travelling expenses' were Rs. 34 crores. 
 
Trilochan Sastry of the Association for Democratic Reforms, who have been fighting to get political parties to make their accounts public, says, "The expense statements filed by parties are very vague and they don't get into great details. So it's very difficult to say at this point, about what is being spent on helicopters or jets."  
Even the sources of funds that are used to keep their leaders airborne are opaque. For 2010-11, the Congress reported revenues of Rs. 307 crores, and the BJP Rs. 168 crores. But 75% of these funds have come from 'sale of coupons' or 'voluntary donations', in other words, contributions below Rs. 20,000, for which the source does not have to be disclosed to tax authorities.  
Mr Sastry says that this is simply a proxy for parties to collect funds from dubious sources. He said there is an urgent need to bring political parties under the RTI.